R A Davies Carpentry, Home & Garden improvements,-R A Davies Carpentry
029 2086 2300 / 07599 0506
All of these reveiws are 5 star rated on my
F
ree index site
Jim and Nona
"The kitchen of our dreams"

Having engaged Russ on several previous projects, all of which were completed to a very high standard, we asked him for a quote to fit our new kitchen. He gave us a great price for the work considering the amount that had to be done and talked us through the various options open to us. As usual, he turned up on the dot each morning and just got on with things. His workmanship was meticulous once again, and he came up with a number of novel solutions to get around unforeseen problems. He dealt directly with the supplier where items were missing or required changing and the kitchen was completed on time and to a standard that we could only have dreamed of. The change from our tired old kitchen to the new one is amazing and this was all down to Russ's skills and hard work. A true professional in every way and 100% reliable.
Phill Roberts Caerphilly.
Russell came to put our kitchen right as it was badly fitted by another so called kitchen fitter. Russell was great, completed the alterations we needed in one day, worked in a methodical order and cleaned up after himself, pitty we didnít get him to fit our kitchen in the first place. Wonít hesitate to recommend him, and I will be using him again in the future. Thank you Russell our kitchen looks finished now.
Louise Horner Facebook

Total garden make over- decking and patio. Fast, efficient and excellent standard of work. Would recommend Russell's services
Suzanne Bressington Facebook

We had Russ and Pegs come give us a quote on our garden only a couple of weeks ago. They were both very professional and made great helpful suggestions on materials that they thought would be best to use, to transform our garden into what we wanted. We were very happy with the extremely reasonable quote they gave, and instructed them to undertake the work. From the day they started, they continued to be very professional, working really hard with very little mess. As the 9 tonne of materials could only be delivered to the driveway, they both hand balled it into the garden with no fuss. They were with us for only 5 days and turned the drab awful area into the stunning garden that we had hoped for. I would not hesitate in recommending them to anyone who wants a job done well. I will definitely be using them again.
Kathryn Watkins facebook
Russell and Paul have just finished my new decking and fencing. Iím over the moon with the work that was carried out. They were very reliable turning up when they said they would and tidied up after themselves. The new deck looks fantastic. I canít wait to get my furniture on it and relax. Thanks Russ & Peg I would not hesitate to recommend you to anyone
Harry Williams



in the last week
Russell fitted some interior doors complete with latches, kitchen floor tiles plus some shelving for me.
I found him to be extremely professional, completing the work on time and to the agreed budget and cleaned up after completion.
I have no hesitation in highly recommending Russell as a tradesman and will certainly use him again for any future work.


Jim HudsonCF
Caerphilly

Russell first did some work for me several years ago and when I needed some internal doors fitted he was the first person I thought of. He quoted me a very fair price and, as before, was a true professional. Unlike many tradesman, he turns up on time and just gets on with things. I was delighted once again with the quality of his work and he also did a couple of other minor jobs for me for a very reasonable price. Everything was left in a pristine condition and I would have no hesitation in recommending him.

Catherine Fletcher
a week ago
Highly recommended. Russell fitted our new kitchen for us, and we found him to be very reliable and professional. The work was carried out on time and with minimal disruption. We are very pleased with the result.



Cathrine White
Caerphilly
31 May 2017
We needed our kitchen refitted at short notice and Russell provided us with a quick reasonable quote. He was recommended to us and we are so glad we took that recommendation. He did a fantastic job taking to time to pay attention to detail. Both him and Paul were friendly and trustworthy and worked hard throughout their time here. Nothing was too much trouble. Our new kitchen is amazing I would highly recommend him.


Rob Gilvear
Cardiff
15 Dec 2016
Russ and Paul extended and fitted a new kitchen. They did a fantastic job. They work hard, keep you informed of progress and any issues, tidy up every day, and organised the electrician. They finished on time and on quote - highly recommended.


Vikki Goodwin
Caerphilly
12 Dec 2016


Russell did a fantastic job removing my old kitchen and installing a new kitchen. They turned up every day, worked hard and tidied up after themselves. The electrician and plumber that they organised turned up when we were told they would too. Very reasonable prices for a first rate job. I love my new kitchen. Thanks.


Michelle Povey
Caerphilly
21 Jul 2016
Once again I would like to thank Russell for doing a great job of reshaping my kitchen unit, he was very professional and knew exactly what I wanted, what a lovely bloke down to earth, I'd like to say that where another person let me down Russell never did he turned up when he said he would and at short notice I was very grateful for that and I'll be keeping his number for anything else that needs doing.


Joan Morris
Caerphilly
16 Jun 2016


Had Russ and pegs back to do yet another job which they completed to a high standard once again, involved building and installing stairs to attic enclosed by stud wall and entrance door, also removed original loft hatch, made good and plastered ceilings, also replaced storm damaged roof to shed, and fixed problem with rain coming into shower room -nothing is too much trouble, these guys are thebest, thank you both for all your help.


Dave Babbage
Pontyclun
13 Jun 2016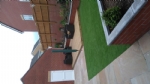 Russell and Pegsy have done another brilliant job for us. We would not go anywhere else for building work. They have transformed our garden from an uninviting, dull and dreary place to an stunning, inviting, usable place for all the family. Nothing was too much. They interpreted all our ideas and produced yet another quality job. They built walls, created a deck and decking steps and also prepared and laid artificial grass and a patio. They are reliable and get the job done quickly. It


Paula Babbage
Pontyclun
4 Nov 2015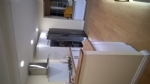 Russell and Pegsy have done yet another brilliant job for us. They knocked through our kitchen into a garage in our previous house so when we moved they were the first people we contacted. We wanted them to knock through our kitchen and dining room to create an open plan kitchen dining room in our new home. Russells excellent carpentry skills also created a lovely window seat in the kitchen too. The house we bought was in desperate need of renovation. Russell fitted us in as quickly as possible and was professional in every aspect of his work. He stuck to any arrangements that were made and did not let us down at all. The kitchen is unrecognisable compared to what we started with. The quality of the work and the products that were installed are fantastic. Thanks Boys. I would and have recommended you to anyone who has asked.


Joan Morris
Caerphilly
23 Oct 2015
I really Can't speak highly enough of both Russell and Paul, who have just completed a total kitchen refurb for me, which, besides replacing and fitting all new cabinet doors, which proved trickier than it seemed, tho their experience made light work of it, and fitting extra cabinets, also included plastering all walls and ceiling and tiling floor, they worked professionally at all times, clearing and tidying up after themselves every day, adding little extras I'd requested along the way, nothing was too much trouble, and the job was finished within the allocated time, :) they're very experienced in what they do, and made ease of awkward areas, giving them a professional finish.. They were totally trustworthy, punctual, reliable and a pleasure to have around, just all round nice guys, who know what they're doing! I'm absolutely over the moon with the finished result, and can't thank them enough, I'll most definitely be using them in future, and recommending them to others. Thank you both so much .. Joan Morris, Caerphilly..


Catherine Fletcher
Caerphilly
13 Feb 2015
Russell and Pegs have just completed a full kitchen renovation at my property. The work was completed on time, and to an excellent standard. They were friendly and professional and I would recommend to all.


Rose-marie Coombs
Caerphilly
13 Nov 2014
Cant see my review so will send again excellent work carried out on removing old decking and relaying new composite decking. So neat the joinery work is excellent. Very nice people easy to have around to do your work. Cleaned up after as well would so recommend to anyone will be having him back as soon as can for tiling job would have no worries on this. Many thanks and well done for working in a difficult area on times.


Vincent Browne
None
19 Apr 2013
Our back garden was long overdue a makeover Russell and Paul had done some work for us last year so we had no hesitation in asking them again From coming to look at the job to advise on what materials were best suited their knowledge and professionalism was second to none I would recommend their workmanship to anyone who was considering it having seen how they transformed our garden from an eyesore to somewhere it is a pleasure to sit and enjoy.

Vince and Christine Cardiff.


Mark Jones
Pontypridd
9 Mar 2013
Russ and Pegsi were contracted to convert our conservatory into a more traditional extension. They undertook all aspects of the brick work, roof work and all internal carpentry and plastering work. The quality of their work was outstanding and their friendly helpful attitude made them a pleasure to deal with. We can't recommend them highly enough.




Anthony Paul Warren
Electrical Design and Development
Caerphilly
16 Feb 2013
Last year Russ and Pegsy removed an internal wall between our living and dining room to make us one large room and also cut us a doorway into our garage and converted it to a new playroom for our children. The work they did was brilliant with minimum disruption. They went about their work very professionally and were a pleasure to have in our home. They always arrived on time - usually because my wife had them booked for sausage sandwiches to start the day...!! Thanks lads for making us that new room to offload the kids into!!!!! Peace at last....!!


Stephanie Harrop
Caerphilly
9 Jan 2013
Russell Davies and Paul Perry carried out a complete renovation to our house and we were delighted with the results. This included plastering the entire house, knocking down and building internal walls and inserting a beam, fitting a kitchen and bathroom including tiling. They were professional at all times and worked to a very high standard. A great bonus is that they allocated time in their diary to complete the job from start to finish and were most reliable, unlike some of the horror stories we have heard about when some builders over stretch themselves by allocating several jobs at the same time. They were able to recommend an excellent plumber and electrician and they all worked well together with Russ project managing the team. Russ and Paul are very friendly and honest, nothing is too much trouble for them. They were very flexible and were able to give us great advice on building and design. They completed the renovation to the agreed timescale. Their costs are very competitive. We would have no hesitation in recommending this firm to anyone. Thanks Russ and Paul for such excellent service.
Stephanie and Gordon Harrop.


Dr G Dunning
Caerphilly
27 Jun 2012
I've used Russell Davies twice in the last six months: to refit a kitchen in January and a bathroom in May. The high quality of his work on the kitchen made him an automatic choice when the bathroom was to be re-tiled (walls and floor). Both jobs featured excellent workmanship and were very reasonably priced and it was clear that Russell took real pride in his professional reputation. He turned up every day as arranged, worked hard and kept any disruption or inconvenience to a minimum. When a minor problem arose with a couple of the bathroom floor tiles - a problem due to materials rather than his tiling - he returned very promptly to sort it out at no charge. I have been extremely impressed with his commitment to providing a first rate service and would definitely make him my first choice for any future building or carpentry work. He represents everything that's best about small family firms.
Dr G Dunning.


Dee Jenkins
Cardiff
23 Jun 2012
Being a single woman in need of a reliable builder and carpenter to build my extension, and not wishing to be taken for a ride by unscrupulous builders, I selected Mr Davies from a list of potential craftsmen. I felt at home with his honesty and integrity. From the very start, Mr Davies treated me with true professionalism that I appreciated greatly. His standard and quality of work was excellent. He arrived on time, kept noise levels to a minimum and tidied up before leaving at the end of the working day. He kept me informed at every stage of the build.

The works were completed within the allocated time schedule and to a very high standard. I am now contemplating a custom built staircase that Mr Davies will build and install for me.

I would have no hesitation in recommending Mr Davies for future carpentry and building projects, large or small.

Dee Jenkins (ms).


Neil Grant
Cardiff
23 Jun 2012
I found Russell very prompt and very reliable really happy with the work my wife is very happy with her kitchen thanks, I would use you again and would give your number to my family and friends highly recommended.


Michael Parfitt
Pontypool
25 Oct 2009
Russells quality of work is second to none, he is also a person who you can trust to work in your home. If you need a carpenter to fit your new kitchen etc this is the person the person for the job.


Doris Ellis
Newport
14 Apr 2009
Fantastic! Prompt and efficient. Extremley polite. Did the overall job to a very high standar. Would recommend Russel to family and friends. Thanks Russell!


Donna Jenkinson
Cardiff
14 Apr 2009
The work was carried out promptly and concisely. I was most satisfied.


Emma Louise
Cardiff
14 Apr 2009
Mr davies is an exeptional craftsman/carpenter
he laid the most amazing decking, i have a very large garden and i wanted the whole area decked he took to his work with great passion you can clearly see that he enjoys his work.
All materials used were of the highest quality and i was very surprised as it didn't cost me as much as i had thought.
Mr davies was always keen to keep me up to date with what he was doing, i have never recieved this level of customer service before and highly reccomend him.